Ruscio Studio Inc. wins 3 Awards at the ICSC Canadian Shopping Centre Awards
TORONTO, October 8, 2015 – At a gala event at the Metro Convention Centre in Toronto, the International Council of Shopping Centers (ICSC) announced its award recipients for the 2015 Canadian Shopping Centre Global Awards programs which recognizes Canada's most innovative shopping centres for outstanding achievement in marketing, development and design, and retail store design.
Ruscio Studio is proud to have been involved in the following 3 award winning projects:
Faces Cosmetics
Eleganza
Euro tile & Stone
In addition, all gold award winners will be automatically eligible to win the ICSC VIVA Best of the Best Award. This award recognizes the shopping centre industry's most cutting edge properties throughout the world and will be presented during the RECon convention in Las Vegas in May 2016.
About Ruscio Studio Established in 2002, Ruscio Studio is a commercial interior design firm specialized in retail design, mall development and branding management. Being equally interior design consultants as we are retail specialists, we have a deep understanding of the needs of mall owners, tenants, and shoppers alike. The fusion of these two disciplines, along with our "out of the box" thinking and hands-on approach, makes us your ideal design partner. For more information visit www.rusciostudio.com
About ICSC Founded in 1957, ICSC is the global trade association of the shopping center industry. Its more than 70,000 members in over 100 countries include shopping center owners, developers, managers, investors, retailers, brokers, academics, and public officials. For more information visit www.icsc.org
---
GOLD MAPLE LEAF
Faces – Laurier Québec
Québec, Québec
Kiosks and Carts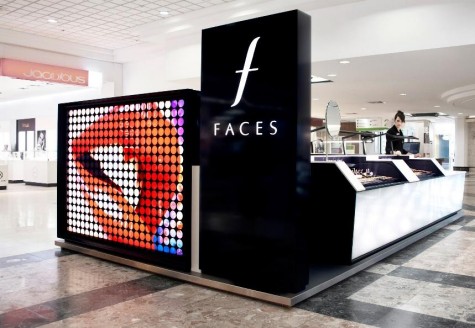 Faces cosmetics is a well-known Canadian-based international retailer with an established history of nearly 40 years and prominent presence in our Canadian malls. As Faces repositioned their brand to cater to a younger demographic, the overall appearance of their kiosks needed to be redesigned. Major malls were also adding pressure by complaining that the kiosk's height was creating visual impediments to overall sightlines. The new modernized concept has been a huge success. It has not only helped Faces successfully fill the critical gap between mass-market makeup lines and expensive department store cosmetic brands, but the new trendy design is now appealing to the younger demographic and attracts an overall more fashion-forward clientele. The kiosk even complies with the strictest mall design criteria as it is reminiscent of a unit found in high fashion department stores.
---
SILVER MAPLE LEAF
Eleganza – Fleur de Lys
Québec, Québec
Stores between 5,001 and 10,000 sq. ft. in area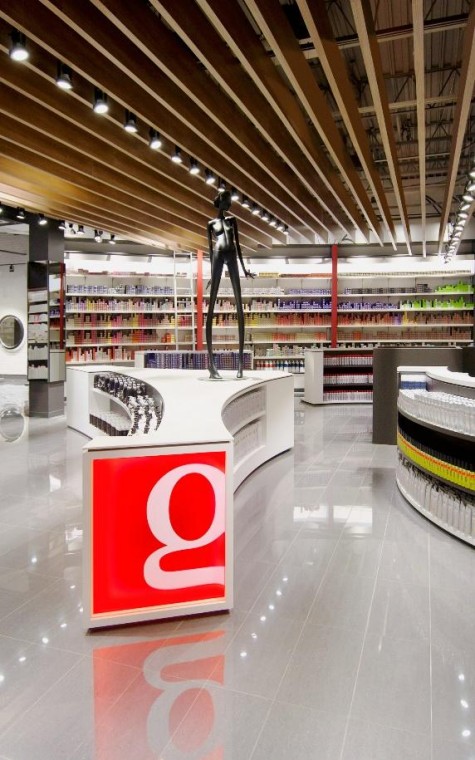 A specialized hair care boutique with three mall locations in the Québec City area, Eleganza has been selling hair products and accessories to both the general public and professionals in the industry for the last 15 years. In 2013, the owner decided it was time to expand the business and move the original Fleur de Lys boutique into a bigger space within the mall. At the same time, a new store concept was needed to both introduce the new product lines and, with new competition constantly coming into play, to reclaim the reigns in this category. The outcome was a design that was a hybrid between mass-merchandising and a specialty beauty shop. Based on the overwhelmingly positive feedback and increased sales performance, a considerable provincial expansion is now underway.
---
SILVER MAPLE LEAF
Euro Tile & Stone
Ottawa, Ontario
Stores in excess of 10,001 sq. ft. in area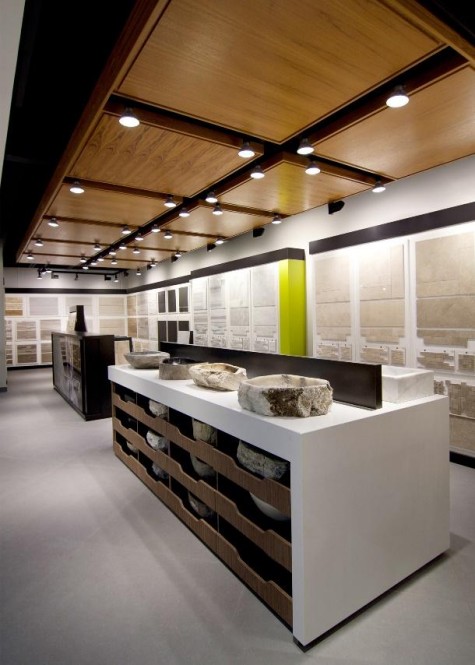 Located on a site that was to be expropriated by the City of Ottawa, Euro Tile & Stone's owners seized the opportunity to move to a new location, expand and reinvent the showroom's shopping experience. As Ottawa's premier importer, distributor and retailer of tile and stone products, the mandate was to create a 10,000 sq. ft. showroom which would exemplify design, inspire creativity, and reveal the endless possible applications of tile and stone. Using primarily their own materials to design and build the showroom, and by introducing elements such as the impressive 18 ft. replica of Michelangelo's statue of David, customers are taken on a journey throughout this remarkable space. Overall, the new design has had incredible success as it not only showcases the countless ways to use and apply all the products that they sell, but it also demonstrates Euro Tile & Stone's knowledge and expertise when it comes to the products they offer and reestablishes the company as the leader in their industry.
2015_ICSC_Canadian_Awards_Winners